This House believes censorship makes a mockery of the arts
Monday May 21 2012
MOTION PASSED by 58% to 42%

Speakers
Nat Muller
Speaking for the motion
Nat Muller is based between Rotterdam and the Middle East. She has served as adviser to the European Cultural Foundation (ECF) and the European Union. She was curator-in-residence at the Townhouse Gallery in Cairo from 2008 to 2009. This year she curated Spectral Imprints for the Abraaj Capital Art Prize 2012, and is on the nominating committee for the prestigious 2012 Jameel Art Prize.
Nada Shabout
Speaking against the motion
Nada Shabout is associate professor of Art History and director of the Contemporary Arab and Muslim Cultural Studies Institute at the University of North Texas. She has been a member of the Cultural Development Committee Board of Governors, Qatar Foundation, and a consultant to the Museum of Modern Arab Art in Doha between 2008 and 2011.
Malek Jandali
Speaking for the motion
Malek Jandali, is a world renowned concert pianist. In 2011, he received the Freedom of Expression award from the Council on American-Islamic Relations, for his song Watani Ana which means I am my Homeland. He lives in Atlanta and is a member of The Recording Academy and The American Society of Composers, Authors and Publishers (ASCAP).
Peter Florence
Speaking against the motion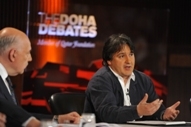 Peter Florence founded the UK's Hay Festival - now in its 25th year – which brings together writers from around the world to debate and share ideas on a wide-range of political and cultural topics. First started in Wales, there are now 15 such festivals across five continents.
Watch online